PIANO  

Through the ages, piano has been the instrument of choice for composers and soloists alike.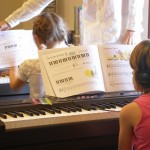 At Music Plus, we have a variety of piano teachers able to guide students of all needs and levels towards their musical goals.  We offer traditional piano lessons for all ages and levels and all styles. The piano lab utilizes digital keyboards, live video and other media to engage learners.
REGISTER IN PERSON | 

905 E Hastings, Spokane, o

ffice hours 3:00 – 7:00 P.M.    

REGISTER BY PHONE |  

Call Anytime 509.474.9849
SCHEDULE YOUR TRIAL LESSON TODAY!

509.474.9849
Pricing
| | | |
| --- | --- | --- |
| Weekly Private Lessons | 30 minutes | $25.00 each for most 30 min. lessons. |
| Weekly Small Group Classes (3-6 students) | 45 Minutes | $16.00 each |
| Weekly Small Group Classes (3-6 students) | 60 Minutes | $17.00 each |
| Weekly Semi-Private Lessons(two students) | 45 Minutes | $19.00 each |
| Camps and Workshops | Varies | Varies |
| Registration Fee | | Free for Online Registration ($15.00 otherwise) |
| Additional Lessons or Classes | | 5% Discount |
You are satisified or your money back | We want the best fit between students and instructors. If you are not satisfied after your first lesson, no charges apply and we will work with you to find the best instructor for your needs.
Friend Discount | $30 off for referring a friend that registers at Music Plus. Pick up a Friend card at the reception desk.
Family/Multiple Lesson Discount | 5% off for each additional family member.
Registration fee $15.00 | Annual non-refundable fee, $15 per student or family.  Covers initial instructional materials and other registration costs.  Additional books may be required as students progress.
Billing and Payment Schedule | Payment is due on the first business day of each month for that month of lessons.
For beginners, the piano's black and white layout promotes easy understanding of musical structure.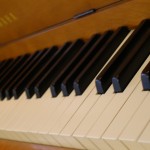 The string and soundboard assembly of the piano is a very old mechanism. Sometime in the 1690s, a Florentine instrument maker, Bartolomeo Cristofori, developed a new way to translate the downward pressure on a key into a striking movement to the strings.  This innovation essentially transformed the harpsichord into an instrument called the pianoforte.  What we know as the action of modern pianos is Cristofori's mechanism and makes the loud and soft sounds of the piano possible.  It is this percussive playing style that allows the piano to be so expressive.
.