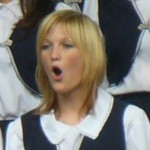 Do you like country?  Blues?  Classical?  Pop?  Theatre?  Explore a variety of styles or focus just on one in a quest to develop your best voice.
The voice is an instrument we all possess. Learning to use it effectively comes naturally to some, but finding our best speaking or singing voice is a struggle for most of us. Like other wind instruments, we have to learn how to play it!
At Music Plus, we focus on many facets of vocal development like breathing, resonance, placement, articulation, volume control, phrasing, registers, vibrato, and the blending of "colors" to create various sounds.
There are a variety of opinions on the best age to begin vocal lessons. The educators at Music Plus believe there is no right or wrong time as long as curriculum is carefully matched to the age and development level of the student. Great care is taken so that the vocal chords remain healthy. Realistic range, proper breathing and other proactive guidelines included in our curriculum insure success and safety for our vocal students.
REGISTER IN PERSON | 

905 E Hastings, Spokane, o

ffice hours 3:00 – 7:00 P.M.    

REGISTER BY PHONE |  

Call Anytime 509.474.9849
SCHEDULE YOUR TRIAL LESSON TODAY!

509.474.9849
Pricing
| | | |
| --- | --- | --- |
| Weekly Private Lessons | 30 minutes | $25.00 each for most 30 min. lessons. |
| Weekly Small Group Classes (3-6 students) | 45 Minutes | $16.00 each |
| Weekly Small Group Classes (3-6 students) | 60 Minutes | $17.00 each |
| Weekly Semi-Private Lessons(two students) | 45 Minutes | $19.00 each |
| Camps and Workshops | Varies | Varies |
| Registration Fee | | Free for Online Registration ($15.00 otherwise) |
| Additional Lessons or Classes | | 5% Discount |
You are satisified or your money back | We want the best fit between students and instructors. If you are not satisfied after your first lesson, no charges apply and we will work with you to find the best instructor for your needs.
Friend Discount | $30 off for referring a friend that registers at Music Plus. Pick up a Friend card at the reception desk.
Family/Multiple Lesson Discount | 5% off for each additional family member.
Registration fee $15.00 | Annual non-refundable fee, $15 per student or family.  Covers initial instructional materials and other registration costs.  Additional books may be required as students progress.
Billing and Payment Schedule | Payment is due on the first business day of each month for that month of lessons.